Comprehensive Fire Safety Systems
As a premier fire safety systems contractor, our staff can install, repair, inspect and perform alterations on all fire protection systems in Minot, ND. As our membership with the AFSA supports, we believe the proper installation of fire sprinklers is a direct action that will save lives and money.
We install systems for residential, commercial, industrial, oil field and government projects. We guarantee our systems will be personalized to every area where installation is required. We're highly confident our customized solutions are the best option for your facilities, and we take pride in being authoritative fire sprinkler contractors in Minot, ND. Our staff ensures you have the most up-to-date and safe equipment installed for any and all projects.
Design and Installation Services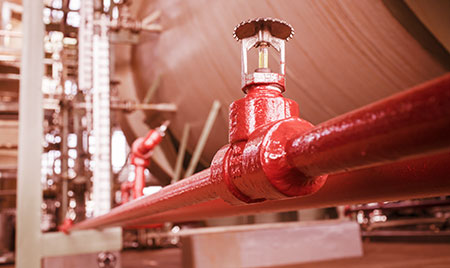 Our niche includes wet and dry sprinkler systems, antifreeze installations and high expansion foam fire sprinkler systems. As your premier fire sprinkler system designer in Minot, ND, we promise that no other contractor's work can compare to the work that we do:
Wet sprinkler systems: For this system, an automatic sprinkler head is connected to a water pipe that is triggered by heat from a fire.
Dry sprinkler systems: Opposite the wet system, pipes are filled with pressurized air or nitrogen, rather than water.
Antifreeze sprinkler systems: This system is designed to keep water-based pipes from freezing or bursting during the winter.
High expansion foam sprinkler systems: These systems are used as a fire suppressant and for controlling vapors released from an accidental liquid natural gas spill, for example.
If there is any way that our staff can help out the members of the community in the areas we serve, we want to. Call us at 701-838-2256 today and let's get started. Remember, we can also offer your facility inspections that encompass the need for new installations, upgrades or repairs to an existing system.
North American Industry Classification System (NAICS)
233220 Multifamily Housing Construction
233320 Commercial and Institutional Building Construction
235110 Plumbing, Heating, and Air Conditioning Contractors
235990 All Other Special Trade Contractors
237110 Water and Sewer Line and Related Structures Construction
238140 Masonry Contractors
238190 Other Foundation, Structure, and Building Exterior Contractors
238210 Electrical Contractors
238220 Plumbing, Heating, and Air Conditioning Contractors
238910 Site Preparation Contractors
238990 All Other Specialty Trade Contractors
332311 Prefabricated Metal Building and Component Manufacturing
541611 Administrative Management and General Management Consulting Services
561210 Facilities Support Services
562910 Remediation Services
Standard Industrial Classification (SIC)
0783 Ornamental Shrub and Tree Services
1623 Water, Sewer, and Utility Lines
1629 Heavy Construction, NEC
1711 Plumbing, Heating, Air Conditioning
1731 Electrical Work
1751 Carpentry Work
1791 Structural Steel Erection
1794 Excavation Work
1795 Wrecking and Demolition Work
1796 Installing Building Equipment
1799 Special Trade Contractors
3596 General Industrial Machinery, NEC